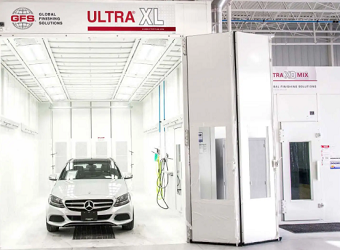 GFS Ultra XL Paint Booth
Ultra XL oversized TRUCK Paint Booth
With a 12-foot-high ceiling designed for painting Sprinter vans, commercial vehicles and full-size pickup trucks, Ultra XL Paint Booths bring the performance you expect from the Ultra Paint Booth line to an extended range of vehicle sizes and heights. With premium brightness, contamination control, energy efficiency, and single- or dual-skin construction, the Ultra XL sprinter van paint booth is the perfect solution for oversized paint jobs.
GFS' Ultra XL truck paint booth offers the flexibility of choosing from two different heat units – GUL2000 or BT 1200 heat system. Both heaters include dual VFDs and automatic pressure control.
Ultra XL truck booths feature four-tube sidewall light fixtures and premium angled ceiling light fixtures, integrated into the Controlled Airflow Ceiling and located directly above the vehicle for optimal illumination. Light fixtures are ETL and ETL-C listed, and come complete with T8 ballasts and energy-efficient LED lamps.